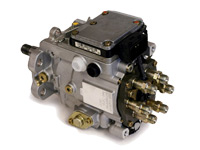 Bosch Injection Pump
Bosch Diesel Fuel Injection Pumps. Against the background of ever-stricter exhaust-gas pollutant values worldwide, Bosch has continued to further develop its injection systems. Based on the 1,800 bar injector, the company will continue to develop its systems for pressures of 2,000 bar and 2,200 bar. The Common Rail System of the 4th generation for heavy commercial vehicles works with a newly developed injector with pressure converter. This compresses the fuel only when it reaches the injector to a maximum pressure of, at present, 2,100 bar. Its special feature: the pressure converter can be triggered independently of the injection nozzle. The freer design of the pressure process thus permitted minimizes the production of pollutants.
Need to price or purchase this product? Select the manufacturer of your engine below.
Bosch Injection Pump suppliers:
Buyer Beware Notice
Many companies sell cheap diesel parts as remanufactured, but are actually selling a used part that has merely been cleaned up.
Deal with authorized suppliers.