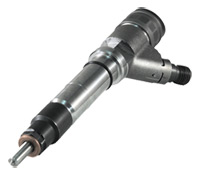 Bosch Fuel Injector
Bosch fuel injectors are engineered for superior diesel engine performance. Whether you've just changed the fuel filter or repaired the entire fuel system, count on Bosch fuel injectors for greater reliability and quick engine start-up. Trust Bosch diesel engine parts to deliver the ultimate in diesel engine performance every time.
Need to price or purchase this product? Select the manufacturer of your engine below.
Bosch Fuel Injector suppliers:
Buyer Beware Notice
Many companies sell cheap diesel parts as remanufactured, but are actually selling a used part that has merely been cleaned up.
Deal with authorized suppliers.