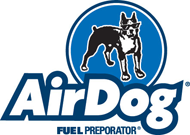 AirDog Parts
AirDog manufactures and supplies AirDog Fuel Air Separation Systems for diesel pick-up trucks, commercial vehicles and class 8 semi trucks, as well as high performance lift pumps for diesel pick-up trucks.
Need to purchase this product? Fill in a couple details and compare pricing from multiple sources.
Buyer Beware Notice
Many companies sell cheap diesel parts as remanufactured, but are actually selling a used part that has merely been cleaned up.
Deal with authorized suppliers.